Feel at home...
By focusing on just the right mix between modern and traditional tyrolian design, we made sure to provide a comfortable environment that will make you feel right at home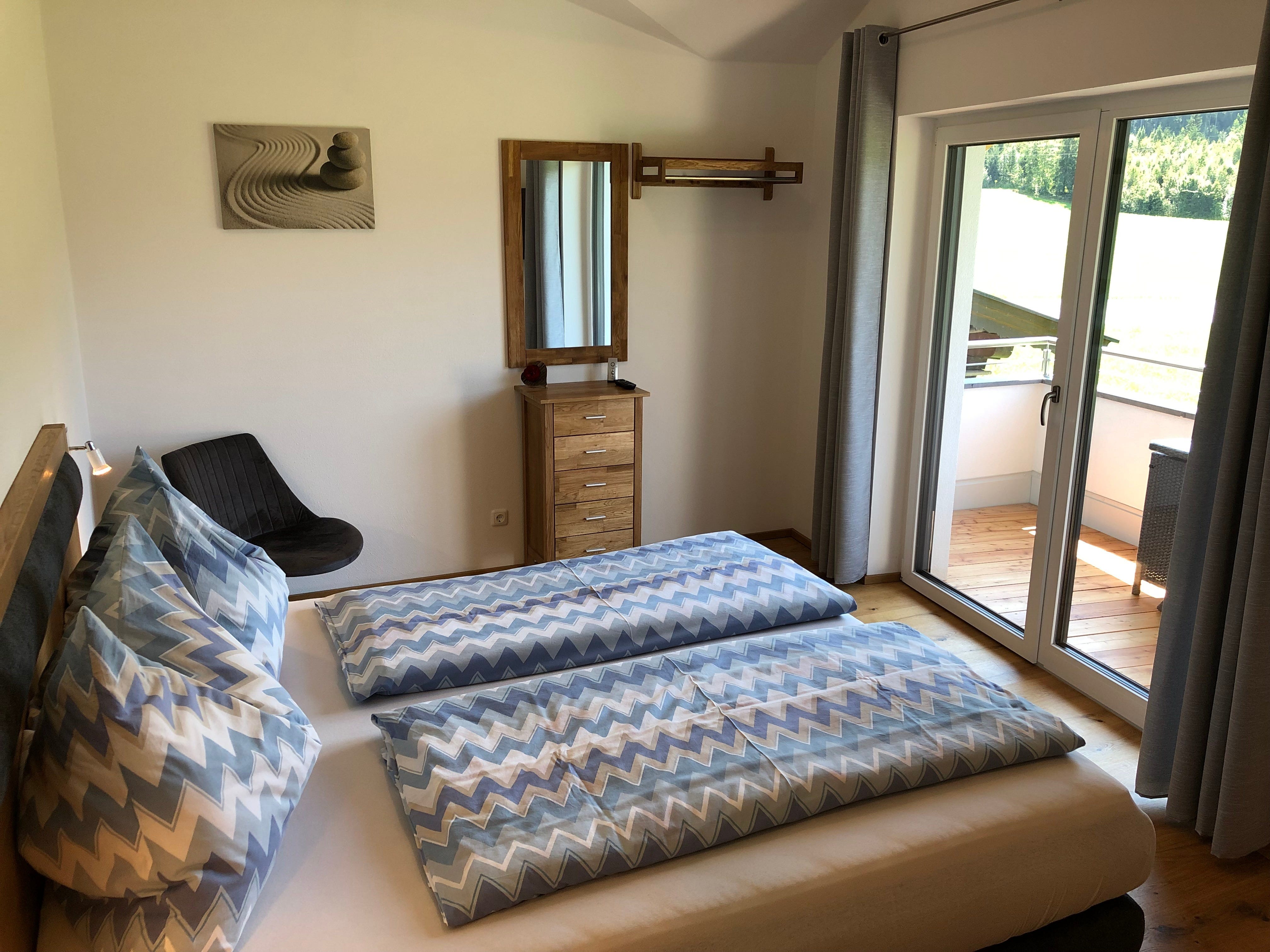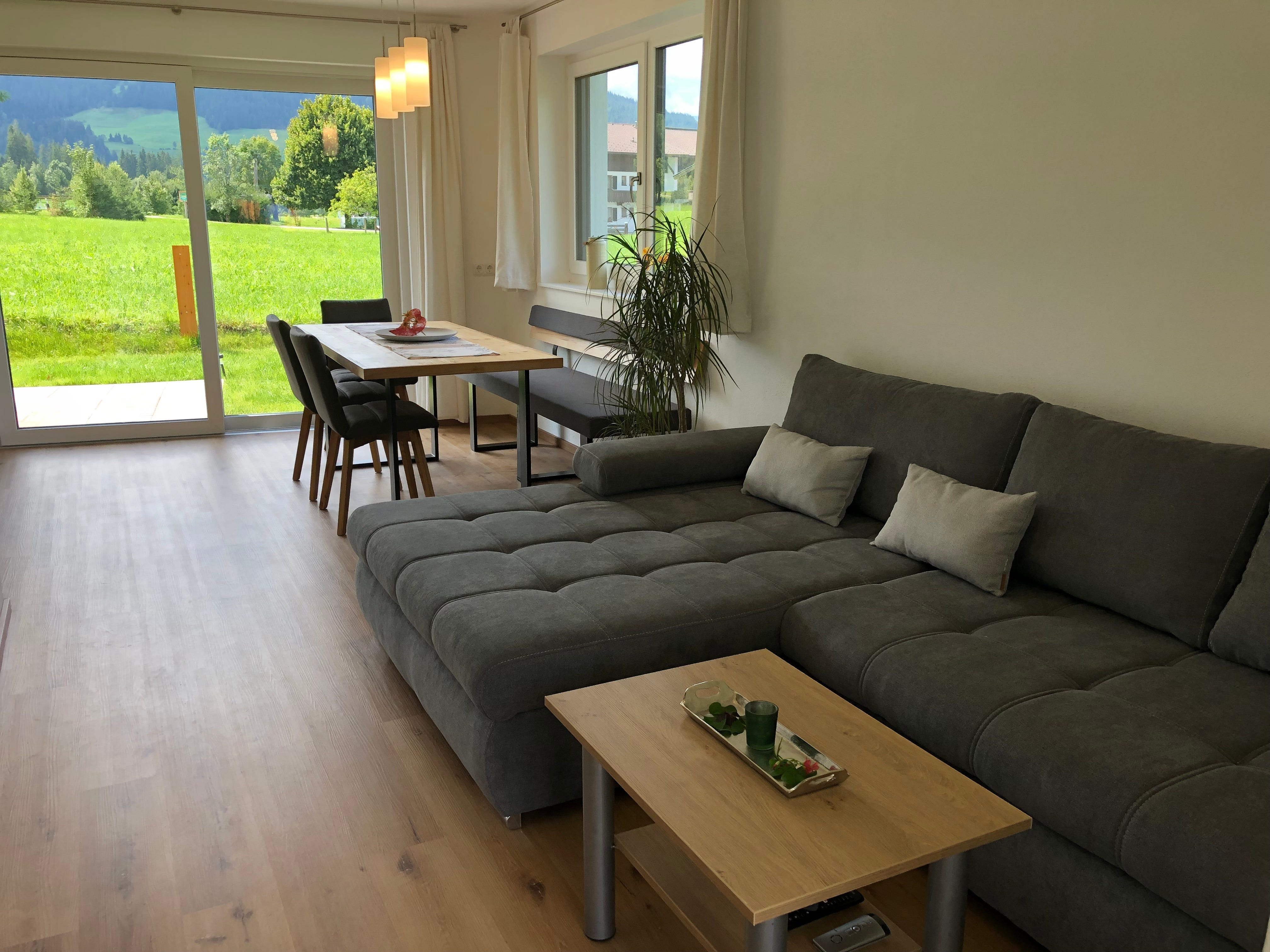 Welcome to Ferienhaus Zass


After more than 30 years of private room renting with Haus Johanna, we are now expanding with a holiday home with room for up to 7 people.


The house is an extension to the existing Haus Johanna but has a separate entrance and offers complete privacy. You can expect a modern accommodation with two bedrooms, three full bathrooms and a spacious kitchen. Both bedrooms have a modern, fully equipped bathroom, and leave nothing to be desired in terms of comfort. Both rooms have access to a private balcony, where you can relax in the sun during the day and enjoy the sunset in the evening.


The larger of the two bedrooms (16m2) is equipped with a double bed and offers enough space for a third bed or cot if required. The second room (14m2) offers you either a double bed or two single beds. For larger groups there is a pull-out couch on the ground floor, that comfortably sleeps two people.


On the ground floor there is a large, fully equipped kitchen with breakfast bar, a big dining table, a cozy TV corner and a full bathroom. From the sun-drenched ground floor you reach the garden, which is exclusively for you.


We look forward to welcoming you as a guest soon!


Summer
1 bedroom & living/kitchen/dining room (up to 2 people) - 110€/night
1 bedroom & living/kitchen/dining room (more than 2 people) - 130€/night
Entire house: 2-4 people - 150€/night
Entire house: 5-6 people - 175€/night
Children under 4 years old are free

In the Summer Low Season you get -20% on the price per night (Cleaning fee and Local City Tax not included)

Seasons
Summer Low Season: Apr. 4th - Jun. 13th and Sep. 20th - Oct. 31st
Summer High Season: Jun. 13th - Sep. 20th

Cleaning Fee
Entire house - 60€
1 Bedroom & living/kitchen/dining room - 40€

City Tax

Cancellation Policy
Up to 3 months before the day of arrival, the contract can be canceled without paying a cancellation fee
In the event of cancellation up to 1 month before the day of arrival, 40% of the total arrangement price must be paid
In the event of cancellation up to 1 week before the day of arrival, 70% of the total arrangement price must be paid
In the event of cancellation in the last week before the day of arrival, 90% of the total arrangement price must be paid
Winter
Entire house: 2-4 people - 190€/night
Entire house: 5-6 people - 210€/night
1 bedroom & living/kitchen/dining room - 165€/night
Children under 4 years old are free

In the Winter Low Season you get -20% on the price per night (Cleaning fee and Local City Tax not included)

Seasons
Winter Low Season: Oct. 31st - Dec. 19th and Mar. 20th - Apr. 4th
Winter High Season: Dec. 19th - Mar. 20th

Cleaning Fee
Entire house - 60€
1 Bedroom & living/kitchen/dining room - 40€

City Tax

Cancellation Policy
Up to 3 months before the day of arrival, the contract can be canceled without paying a cancellation fee
In the event of cancellation up to 1 month before the day of arrival, 40% of the total arrangement price must be paid
In the event of cancellation up to 1 week before the day of arrival, 70% of the total arrangement price must be paid
In the event of cancellation in the last week before the day of arrival, 90% of the total arrangement price must be paid
Bedroom 1's private full bathroom
Bedroom 1's private full bathroom
Bedroom 1's private undercover balcony
Bedroom 2's private full bathroom
Bedroom 2's private full bathroom
Bedroom 2's private undercover balcony
Bedroom 2's private undercover balcony
Fully equipped kitchen & breakfast bar
Fully equipped kitchen & breakfast bar
Full Bathroom ground floor
Full Bathroom ground floor
Stairway leading to the upstairs bedrooms
Patio off the kitchen/dining area
Contact & Booking Details
Content from Google Maps can't be displayed due to your current cookie settings. To show this content, please click "Consent & Show" to confirm that necessary data will be transferred to Google Maps to enable this service. Further information can be found in our Privacy Policy. Changed your mind? You can revoke your consent at any time via your cookie settings.
Consent & Show
Address
Holzham 107
6363 Westendorf, Tirol
Austria