Voel je thuis...
Met de focus op de juiste mix tussen moderne en traditionele tyrolian design, hebben we een comfortabele omgeving gecreëerd waardoor u zich thuis voelt.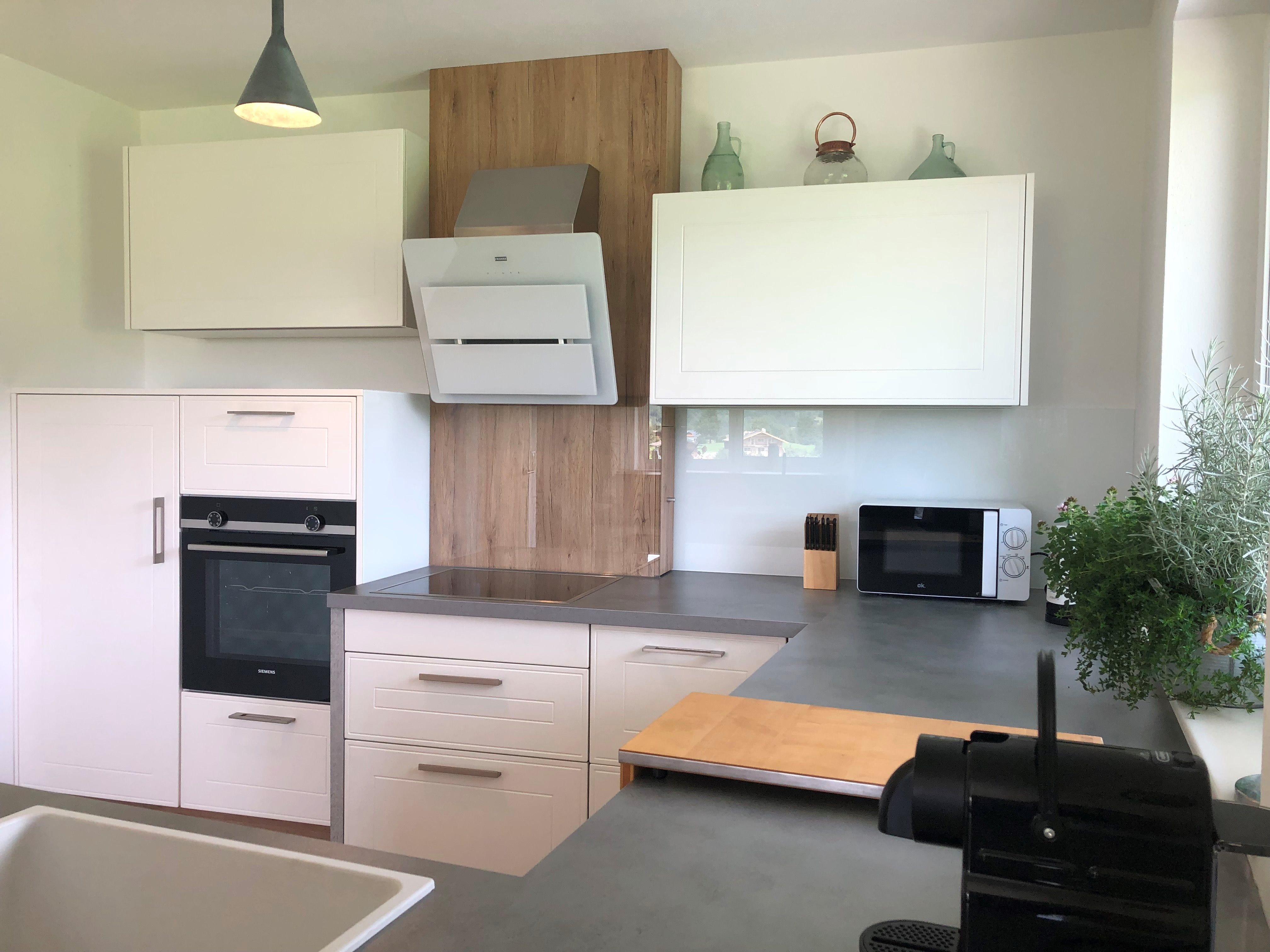 Welkom bij vakantiehuis Zass!

Na meer dan 30 jaar privé kamer verhuur, zijn we nu uitgebreid naar een 7-persoons vakantiehuis.

Het huis is een uitbreiding van het bestaande huis Johanna, maar heeft nu een andere ingang en biedt volledige privacy. Je kan een accommodatie verwachten met 2 slaapkamers, 3 badkamers en een ruime keuken. Beide slaapkamers zijn ingericht met een moderne badkamer waarin niks te missen valt qua comfort. Beide kamers hebben toegang tot een eigen balkon, waar je overdag kan relaxen in de zon en 's avonds kan genieten van de zonsondergang.

De grootste slaapkamer (16m2) heeft een twee-persoonsbed en heeft genoeg ruimte voor een extra bed of eventueel een kinderbed. De tweede slaapkamer (14m2) heeft ook een twee-persoonsbed of naar uw wens twee één-persoonsbedden. Voor grote groepen is er de mogelijkheid om de slaapbank te gebruiken, waar ook twee personen op kunnen slapen.

Op de begane grond is een ruime keuken met ontbijt bar, een grote eettafel en een gezellige zit hoek met tv. Er is ook een badkamer op de begane grond. Vanuit de zonovergoten begane grond kunt u naar buiten en gebruik maken van de tuin die volledig voor u is.

We kijken ernaar uit om u binnenkort als gast te verwelkomen!


Zomer
1 slaapkamer + keuken/eetkamer/woonkamer (maximaal 2 personen) - 110€/nacht
1 slaapkamer + keuken/eetkamer/woonkamer (meer dan 2 personen) - 130€/nacht
Het hele huis: 2-4 personen - 150€/nacht
Het hele huis: 5-6 personen - 175€/nacht
kinderen onder 4 jaar oud gratis

In het laagseizoen zomer krijg je -20% op de prijs van de nacht (excl. Schoonmaakkosten en toeristenbelasting)

Seizoen
Laagseizoen zomer: 4.4. - 13.6. en 20.9. - 31.10.
Hoogseizoen zomer: 13.6. - 20.9.

Schoonmaakkosten
Het hele huis - 60€
1 slaapkamer + keuken/eetkamer/woonkamer - 40€

Stadsbelasting
2€/per persoon, per nacht

Annuleringsvoorwaarden
Tot 3 maanden vóór de dag van aankomst kan het contract worden geannuleerd zonder annuleringskosten te betalen
Bij annulering tot 1 maand vóór de dag van aankomst moet 40% van de totale arrangementsprijs worden betaald
Bij annulering tot 1 week vóór de dag van aankomst moet 70% van de totale arrangementsprijs worden betaald
Bij annulering in de laatste week vóór de dag van aankomst moet 90% van de totale arrangementsprijs worden betaald
Winter
Het hele huis: 2-4 personen - 190€/nacht
Het hele huis: 5-6 personen - 210€/nacht
1 slaapkamer + keuken/eetkamer/woonkamer - 165€/nacht
kinderen onder 4 jaar oud gratis

In het laagseizoen winter krijg je -20% op de prijs van de nacht (excl. Schoonmaakkosten en toeristenbelasting)

Seizoen
Laagseizoen winter: 31.10. - 19.12. en 20.3. - 4.4.
Hoogseizoen winter: 19.12. - 20.3.

Schoonmaakkosten
Het hele huis - 60€
1 slaapkamer + keuken/eetkamer/woonkamer - 40€

Stadsbelasting
2€/per persoon, per nacht

Annuleringsvoorwaarden
Tot 3 maanden vóór de dag van aankomst kan het contract worden geannuleerd zonder annuleringskosten te betalen
Bij annulering tot 1 maand vóór de dag van aankomst moet 40% van de totale arrangementsprijs worden betaald
Bij annulering tot 1 week vóór de dag van aankomst moet 70% van de totale arrangementsprijs worden betaald
Bij annulering in de laatste week vóór de dag van aankomst moet 90% van de totale arrangementsprijs worden betaald
Slaapkamer 1 prive badkamer
Slaapkamer 1 prive badkamer
Slaapkamer 1 overdekt prive balkon
Slaapkamer 2 prive badkamer
Slaapkamer 2 prive badkamer
Slaapkamer 2 overdekt prive balkon
Slaapkamer 2 overdekt prive balkon
Volledige uitgeruste keuken met ontbijt bar
Trappen naar de slaapkamers
Contact- en boekingsgegevens
Content from Google Maps can't be displayed due to your current cookie settings. To show this content, please click "Consent & Show" to confirm that necessary data will be transferred to Google Maps to enable this service. Further information can be found in our Privacy Policy. Changed your mind? You can revoke your consent at any time via your cookie settings.
Consent & Show
Adres
Holzham 107
6363 Westendorf, Tirol
Austria